Tree Removal Dumpster Services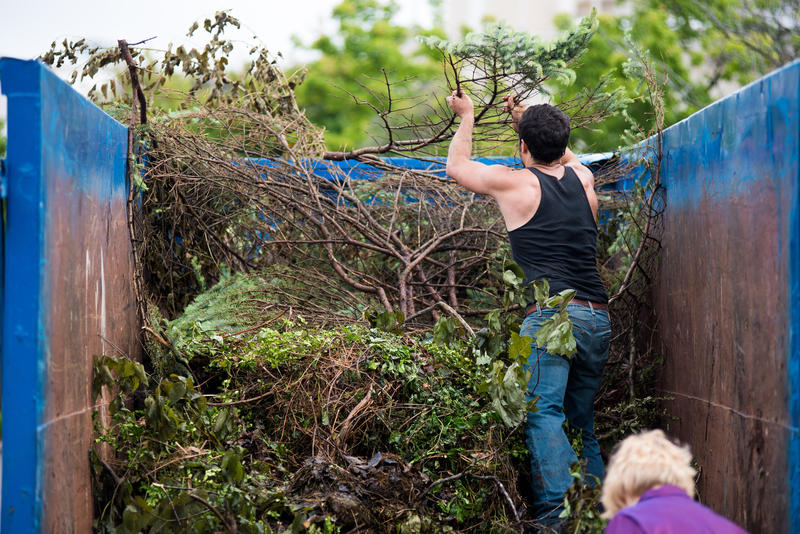 Trees are a very useful part of our environment, but they can also be health hazards when they have structural problems. However good trees can be, there can be situations when they have to be removed. That is the case when they pose threats to human lives.
Every tree on your property should be properly monitored for any growth defects and structural integrity. This constant monitoring will make it possible to remove any tree that is deformed or whose structural integrity is already compromised to avoid accidents and fatalities. Don't wait until your own trees bring you down to appreciate the need to constantly inspect them.
Tree removal is a risky process that should only be handled by professionals with insurance and safety gear. You should not attempt it not unless you are very much sure of the outcome. Once the tree is on the ground, you will need to get rid of it to reclaim your yard. The leaves, twigs, branches, and trunks are all not desired.
Roll Off Dumpster for tree removal
Before you call us to carry away the logs and tree branches from your premises, just ask yourself if you can put the tree into other uses. For instance, if it is a hardwood tree in question, then you can get timber from it or you can have it for firewood. Do you recall those chilling winter days? You can use them as fuel for an indoor fireplace or even an outdoor fireplace.
Longmont's Premier Dumpster Rental Service Company is ready with everything that you need to get rid of any size of the tree. We are all available and ready to deliver a dumpster that you ordered for us. We have rush services that you can also use to get your dumpster in less than one hour.
The Tree Removal Dumpster Services that we offer to make it possible for you to clean your yard after a tree fell on it. Our roll-off dumpsters will carry everything including the leaves. And since you can rent it for as long as you want, you can take your time to properly clean your yard and dump all the wastes inside the roll-off container.
Dumpster delivery and pick up
You place your order and schedule delivery time. We have trucks that are ready to deliver the roll-off dumpster to any part of Colorado. You don't have to get worried even if you are located at the farthest end of this state. We deliver for free right to your doorstep.
When you are done loading all the wastes from the trees and its trunk, you can just give us a call for pick up. Our hauling services are greatly discounted to make it possible for you to handle waste management. You may not be in a position to handle all the waste collection and disposal according to the laws of the land. So, it will be a good idea to let us handle it all for you.
Contact us for more information on our dumpster rental services!
We offer the best dumpster rental services throughout the state of Colorado.
From roll off dumpsters to residential & commercial cleanup services, we are your top choice when it comes to finding a reputable dumpster company in your area.
We offer the best dumpster rental and cleanup services in Longmont, Colorado. We also offer roll-off dumpster services, residential & commercial cleanup services, small & large dumpster rentals, construction cleanup, waste containers, junk removal dumpster services, demolition removal dumpster services, & much more.